Go back to the TOC
Webradio view
This view allows to play or organize web radios.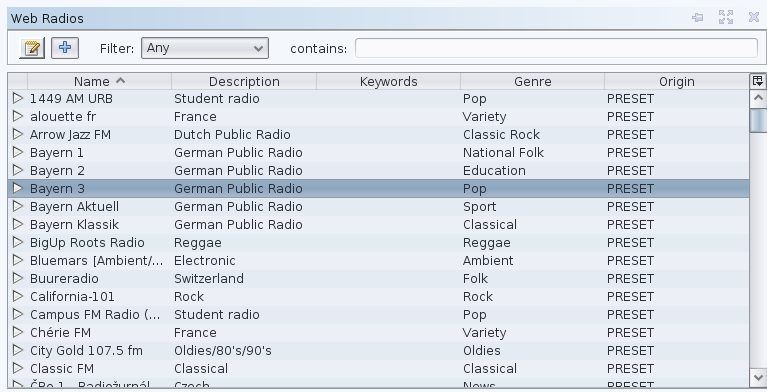 Custom and preset radios are distinguished. Preset radios are pre-selected on the Common jukebox project. Custom radios is added by yourself. The "origin" column display the radio type : CUSTOM or PRESET.
Many settings or information are available about radios, some are not displayed by default (like bitrate or URL). You can hide or show columns using the column selector.
The 'Genre' attribute can be selected among Jajuk collection known genres or any text can be typed. Note that some radio-oriented genres are available like News or Education.
The 'keyword' attribute enables radio tagging. For instance : 'English,cool program at 7pm'.
If you want to edit some settings from the table, make sure to switch the edit button at the left-upper side, then simply double-click over the cell you want to edit.
You can add a new webradio using the '+' button.
You can filter the radios using various attributes. The "Any" attribute means searching using any of the available attributes.
A double click on any row launches the radio (if the edit switch is disabled).
Each radio can also be launched by single-clicking on the > first column.
Each radio owns a contextual menu allowing to :

Copy the url into the clipboard
Deleting the radio
Showing all the radio properties.
Go back to the TOC