Go back to the TOC
Playlist view
The Playlist view intends to create, change or read playlists.
Different types of items
Jajuk manages two types of playlists :
Regular playlists (.m3u files only for now)
Smart build-in playlists (New, Best-of, Novelties, Bookmarks) automatically and dynamically created by Jajuk and that you can save or play. Further information about smart playlists is available on the using playlists page.
The two main parts of the Playlist view
The view is composed of two main vertical parts.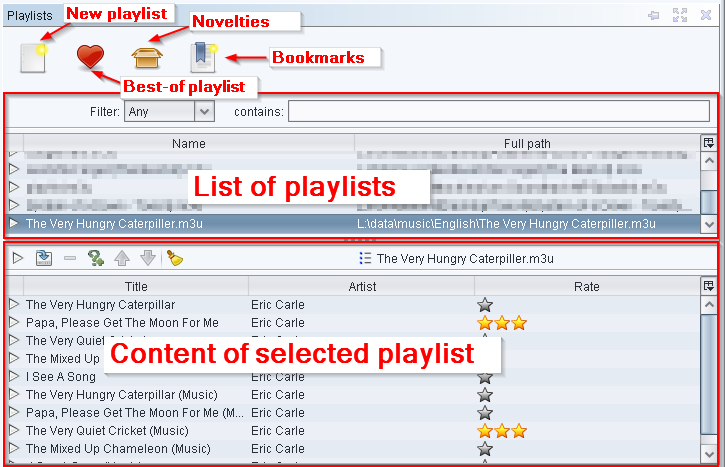 The upper part shows smart playlists as icons and a table of regular playlists (can be filtered like in others Jajuk tables).

Like every where else in jajuk, you can launch a playlist by double clicking on the row or using contextual menu.

Contextual menu on the table rows or on the smart playlists brings others features like delete, push, play repeat, play shuffle, properties or save. It features also the Prepare Party .

The lower part display a table containing the content of the selected playlist (at view startup, default playlist is a void "New" playlist)
Other tips
You can also add new files in the playlists by drag and drop from tree or table views.
You can select columns you want to display or hide by clicking on top/right icon of the ta
Go back to the TOC